Crowns in Northern New Jersey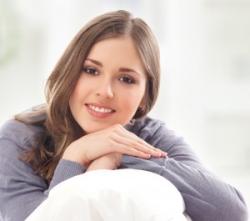 What Are Dental Bridges?
Bridges are natural-looking dental appliances that can replace a section of missing teeth. They are called bridges because they utilize the good teeth directly in front of and behind the tooth in question to form a secure bridge for a new tooth. The dentists at Garden State Dental in Northern New Jersey create custom bridges for each person. We want you to have a beautiful natural smile and we make sure that your bridge isn't visible to general public so that you can have confidence when you smile. Our techniques will restore the natural relationship between your upper and lower teeth, give proper contouring to your teeth and ensure that you have a proper bite.
In addition to permanent or bonded bridges there is another option with removable bridges, which can be cleaned on a regular basis by the wearer. Other bridges may need to be removed and cleaned by your dentist at Garden State Dental. In some instances, an implant bridge in needed. This appliance is attached to an area below the gum tissue, or the bone for security and a natural look.
What Are Dental Crowns?
Dental Crowns are essentially synthetic caps placed on top of your existing tooth stub or on top of a dental implant, if the tooth has been removed. Think of a 'Crown' on a King's head. Most crowns are constructed using a porcelain material because of its durability and resistance to cold, heat and stress. Porcelain is also similar to your tooth color and will be changed to match the color of your other teeth by our Northern New Jersey Dentists to ensure a natural look.
Most Dental Crowns are used to restore a tooth's function and appearance following a restorative procedure such as a root canal. When decay in a tooth has become so advanced that large portions of the tooth must be removed, crowns are often used to restore the tooth.
Crowns are also used to attach bridges, cover implants, prevent a cracked tooth from becoming worse, or an existing filling is in jeopardy of becoming loose or dislocated. Crowns also serve an aesthetic use, and are applied when a discolored or stained tooth needs to be restored to its natural appearance.
What is the process for getting a crown:
Reducing the size of the existing tooth through grinding or
Affixing a Dental Implant into the bone and adding the stem
Creating an impression of the mouth to accomodate the new crown
Send the impression to a dental lab for custom designed Crown
A temporary Crown is sometimes added
Permanent Crown is fitted and added to the existing tooth or implant stem.
Caring For Your Crowns
Since Crowns do not contain dental enamel they require careful and proper care. Most quality crowns should last from 8-15 years or longer. Daily dental care is extremely important to avoid excessive plaque build up on the new crown. Brushing after every meal, daily flossing and rinsing with a quality mouthwash are key maintenance elements. It is also common to ruin crowns through daily activities such as chewing ice, grinding teeth and clenching jaws. You should never try to use your teeth to bite through non-food items.
Restore Your Teeth with Porcelain Crowns
Porcelain crowns are caps shaped like natural teeth that can be a smart solution for patients with chipped, stained, decayed or worn teeth–particularly those with too little tooth left to hold a filling. If you'd like to return your teeth to their naturally beautiful appearance, ask your Garden State Dentaldentist for an evaluation to see whether porcelain crowns are the right choice for restoring your damaged teeth.
Why patients choose porcelain crowns.
Our Garden State Dental patients choose porcelain crown placement to resolve a wide range of common problems. For some, it's a simple matter of correcting a less than perfect smile due to broken, chipped, or cracked teeth. For others, porcelain crowns can be used to fill gaps between teeth or to reshape a misaligned tooth. In still other cases, patients choose porcelain crowns as a simple cover-up for their stained or discolored teeth.
How porcelain crowns work.
Porcelain crowns are custom shaped to look and act like your natural teeth. Your Garden State Dentaldentist will fit your new porcelain crown over what is left of your existing tooth, so that the crown encases the entire tooth surface above the gum line. Your crown will then be cemented in place, concealing the natural, damaged tooth underneath.
The benefits of porcelain vs. metal crowns.
Crowns can be made of many different materials, such as metal, porcelain or a combination of the two. Porcelain, however, can be shaped and fitted to closely resemble your natural tooth shape and size. Porcelain is also stronger than other crown materials, so crowns made from it will typically last longer, too. For these reasons, porcelain has become the preferred crown material for the majority of Garden State Dentaldentists.
The fitting process for crowns.
The preparation for a porcelain crown is the same as that for crowns made of other materials. In most cases, you will need to make two visits to your Garden State Dentaldental office. During your first visit, the dentist will take an impression of the tooth in need of the crown. The impression will then be sent to a lab where the crown will be sculpted to its exact specifications. The impression ensures that the crown will perfectly fit your unique jaw shape and bite. Your Garden State Dental dentist may recommend a temporary crown until your new permanent crown can be placed.
The fitting process for porcelain crowns.
When you return to the Garden State Dental office for your second visit, your new custom-made crown will be placed over your problem tooth and cemented securely in place. You may need to return for follow-up visits to adjust the fit for comfort. Afterward, your porcelain crown should provide improved appearance, but with all the same functionality as a natural, undamaged tooth.
Why dentists prefer porcelain crowns.
Garden State Dentaldentists prefer porcelain crowns because they are extremely durable and have a translucent quality that closely resembles natural teeth. If your teeth are cracked, damaged, badly stained, or make you self-conscious, a porcelain crown can help restore your smile to its original luster. The durability of porcelain also makes these crowns longer lasting than most other crown materials. With proper care, your porcelain crown should provide you with years of greater function and more beautiful smiles.
Determining whether porcelain crowns are right for you.
If you're concerned about the look of your natural teeth, ask your Garden State Dental dentist for an evaluation to see if porcelain crowns could restore the beauty of your smile. Porcelain crowns can be a bit more expensive than other restoration methods, but their durability and natural appearance make the additional cost well worth it for most patients. These crowns do, however, affect your natural tooth structure. So you should carefully weigh the pros and cons with your dentist before reaching a decision.