Posted under:
General
Posted on: August 7, 2020
Are Dental Implants Right for You?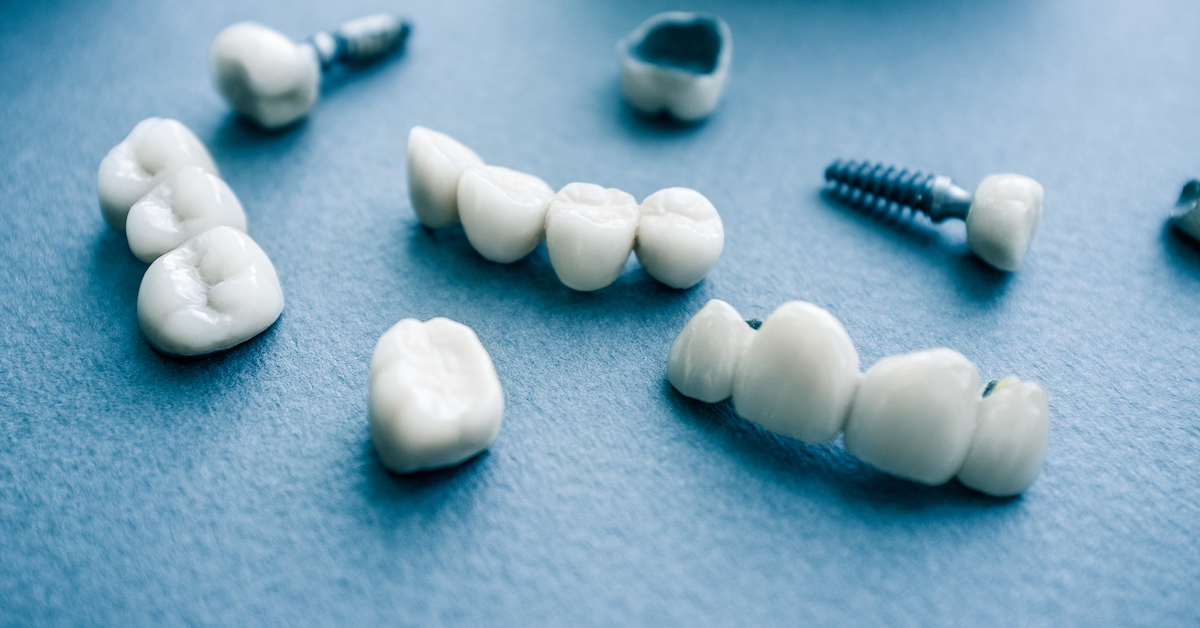 What Are Dental Implants?
Dental implants function as artificial tooth roots and are inserted into the jawbone. After the body of the implant fuses to the jawbone, it acts as a sturdy base for an artificial tooth or an implant-supported bridge. Many people choose dental implants to replace a missing tooth or many teeth, and they are a great option for anyone who wants to avoid wearing uncomfortable dentures. Once the crown or bridge is attached to the top of the implant, it looks, functions, and feels just like your natural teeth.
There are two different types of dental implants. Endosteal implants are placed into the jawbone and are the most common type. Subperiosteal implants are placed on top of the jaw.
There are three main parts of a dental implant:
The body, or post, looks like a screw and is surgically implanted into the jawbone. It's usually made of titanium and is very durable. This is the component that fuses to the jawbone, acting as a base for a crown or other restoration.
The abutment serves as a connector post and is attached to the body, right above the gumline.
The crown is attached to the top of the abutment and is the part of the implant that is visible. The crown is customized to look just like the rest of your teeth.
What Happens During a Dental Implant Procedure?
Dental implant surgery is an outpatient procedure that is performed in several stages. This allows for proper healing of the bone and gum tissue between visits to our office.
Take a look at what you can expect to happen during dental implant surgery:
The first step occurs during the initial consultation, during which your dentist will thoroughly examine your mouth and supporting tissues. X-rays of your mouth will be taken, your dentist will determine your specific treatment plan, and any questions or concerns you have will be addressed. What happens before surgery depends on whether any damaged teeth require removal. In most cases, a dental implant can be placed on the same day as a tooth extraction.
If your jawbone isn't strong enough, a bone grafting procedure will be performed before the implants are placed. This can take several months to heal.
During the placement of the body of the implant, the oral surgeon will make an incision in the gum tissue to expose the jawbone. Then, holes will be drilled into the bone where the implant will be placed. The incision will be closed with stitches. Over the course of several months during the healing process, osseointegration will occur, which is the process of the jawbone fusing with the titanium posts.
After the jawbone and implant fuse together, the abutment will be attached to the body of the implant. It's possible for the abutment to be placed at the same time as the implant itself. Your oral surgeon will provide you with more information during your appointment.
Once your gums have healed, impressions of your mouth will be taken. The impressions will be used to create a natural-looking crown, which will be attached to the abutment.
When Is Bone Grafting Necessary?
Good candidates for dental implants have strong jawbones and healthy gum tissue; however, bone grafting is usually required when a patient has experienced bone loss and doesn't have a sufficient amount of jawbone to support dental implants. A bone graft is a surgical procedure that rebuilds missing bone by transplanting bone tissue. This creates a strong base for the implant and increases the chances of a successful surgery.
During a bone graft procedure, bone tissue is taken from another part of the body, donor tissue, or a special material is used that encourages the growth of new bone. If you only need a minor bone graft, it's possible that the procedure can be performed as part of the dental implant surgery. Extensive bone grafts require a waiting period of several months while new, strong bone develops.
Recovery After Dental Implant Surgery
Following oral surgery, it's common to experience some bleeding near the site of the implant, and you can expect to feel some minor discomfort and pain. It's also normal to have facial swelling and bruising. You can apply an ice pack to reduce swelling, and your dentist or oral surgeon may prescribe pain medicine or recommend an over-the-counter pain reliever to relieve any discomfort. You're encouraged to call our office if pain persists or worsens. A diet of mostly soft foods is recommended for about a week while the surgical site heals.
What Are the Benefits of Dental Implants?
Compared to other tooth replacement options, dental implants offer numerous benefits, including:
Natural appearance
Enhanced durability
Comfort
Easy to care for with daily brushing and flossing
Ability to preserve bone and prevent future bone loss
Improved speech
Easier eating
Convenience
High success rate
Improved oral health
Are There Disadvantages of Dental Implants?
The high cost associated with receiving dental implants is one of the main disadvantages. In addition, the procedure may not be covered by your dental insurance, although our dental office may offer financing or payment options to help make treatment more affordable. Take a look at a few other disadvantages:
It's a lengthy procedure with many steps involved
Crowns may need replacement in the future
Risks associated with surgery and anesthesia
After experiencing tooth loss, you might be reluctant to smile. If you're interested in restoring it with dental implants, our team of caring and experienced dentists will work with you to develop a treatment plan that meets your needs. Take the first step toward improved oral health and schedule your consultation today.