Posted under:
General
Posted on: July 11, 2022
Basic Dental Care in Northern New Jersey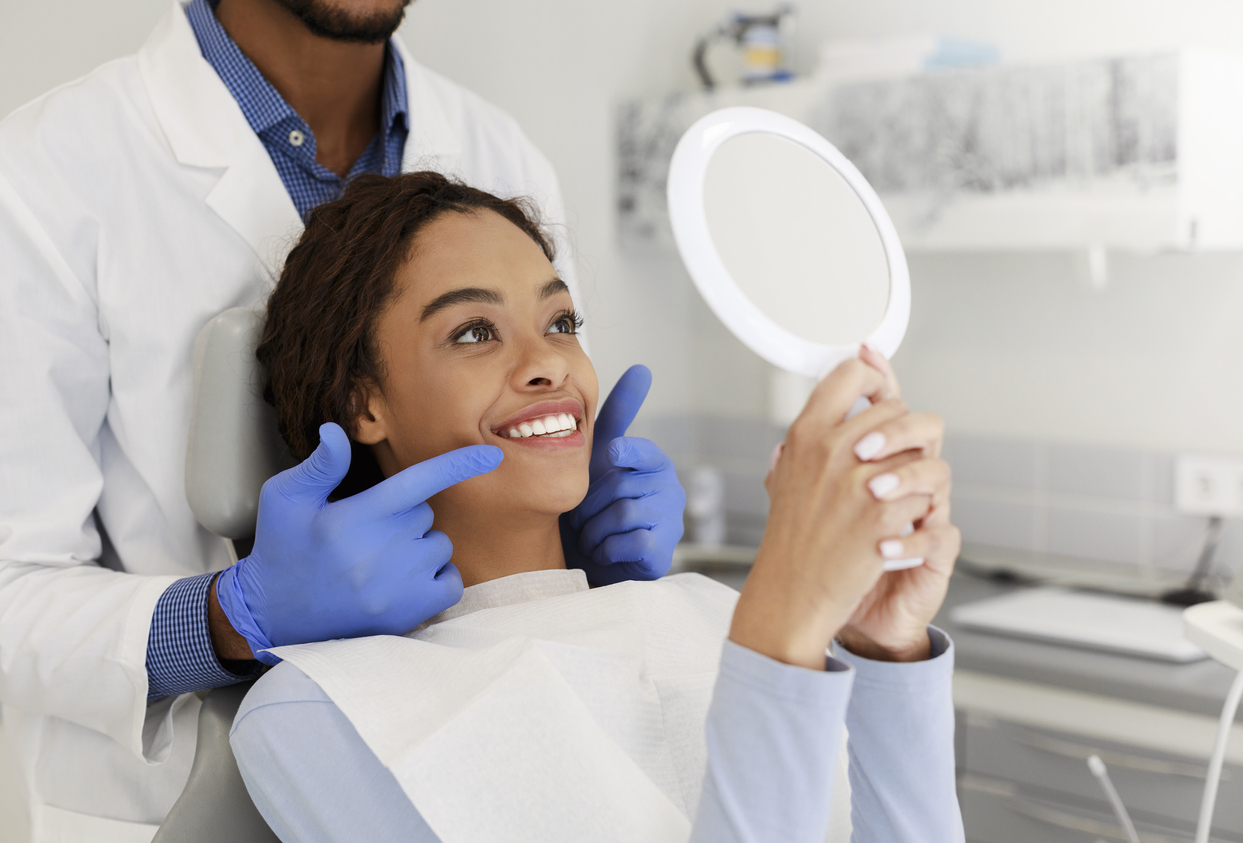 How do you go about maintaining a beautiful smile? Would you believe that it all starts at home? While going to see a Northern New Jersey dentist is very important, you need to practice basic dental care. You have to create and stick to an oral hygiene regimen. You likely already have a regimen that you use daily, but is it good enough?
The truth is that, more often than not, people don't have all of the basic components that make up a good dental care routine. The good news is that having a good routine isn't hard. There are just a few basic tips that you have to implement on a daily basis.
Keep in mind that these are just basic tips. Depending on your individual needs, you might need to add more. By visiting your Northern New Jersey dentist, you can get customized tips that better fit your specific needs.
Creating Your Reliable Basic Dental Care Routine
To create the perfect routine, you have to know the basic steps that should be in every oral hygiene regimen. Let's cover what you should do no matter what. Keep in mind that you have to use these tips every day to get the most out of them.
Click here to schedule your cleaning or dental exam today.
Brushing Your Teeth Twice a Day
When you were a kid, you were probably told to brush your teeth twice a day. This advice was good because it still rings true to this day. Really, you want to brush your teeth after every meal, but doing it more than twice a day isn't easy for everyone. At the very least, doing it twice a day is a good habit.
When brushing your teeth, don't rush the process. You should spend at least two minutes brushing your teeth every time you do it. While brushing, clean every area of your mouth equally. It's easy to do that when you divide your mouth into four sections. Then, spend 30 seconds cleaning each section.
If you have trouble keeping up with the time, consider getting an electric toothbrush. Many of these toothbrushes keep track of the time for you. Generally, they pulse after 30 seconds to let you know that it's time to clean a new section of your mouth.
When it's time to pick out your toothbrush, don't get one that has a really big head on it. This large head can make it difficult to properly clean your back teeth. Likewise, don't get a toothbrush with hard bristles. Instead, opt for soft bristles because they do less damage to the enamel on your teeth.
Using Toothpaste That Contains Fluoride
What's the best toothpaste to get? Does it really matter? According to the American Dental Association, it does. You want to get toothpaste that has fluoride in it. The flavor and brand name aren't as important. It's really the fluoride in the toothpaste that you want to pay attention to and the ADA Seal of Acceptance.
In case you don't know, fluoride is a natural mineral that hardens the enamel on your teeth, making it easier for them to stand up to problems, such as cavities. In fact, some cities add fluoride directly to their drinking water. While it's only a little bit, studies show that the citizens of these cities have healthier teeth overall.
Of course, you want the fluoride to sit on your teeth for a little bit too. When you get done brushing, don't rinse your mouth right away with water. You can spit, but don't rinse. This gives the fluoride from the toothpaste a chance to do its magic.
If you want to add even more fluoride to your routine, get yourself a fluoride rinse. You need to use this type of rinse after you brush. Most people use it before bed because they won't be eating or drinking anything for a while. Then, the fluoride stays on teeth even longer.
Flossing Between Your Teeth
Flossing is such an important part of every reliable basic dental care routine. Like brushing, you should floss every day. Unfortunately, a number of people skip it for one reason or another. However, flossing can remove food from between your teeth and get rid of plaque buildup that brushing alone can't.
The ADA recommends that people should floss every single day. It points out that it doesn't really matter which method you use to floss. Whether you use a floss pick, traditional string floss, or water flosser, the most important part is that you use it every day.
Adding Mouthwash to Your Routine
Mouthwash doesn't cost a lot, but the benefits it adds are fantastic. Most people think that mouthwash is just there to freshen your breath. While it's true that it does make your mouth minty fresh, it does so much more than that.
Mouthwash eliminates the bad bacteria in your mouth, which promotes healthy gums. Since mouthwash is so inexpensive, it's a step that nearly everyone can add to their daily routine.
What a Northern New Jersey Dentist Can Do for You
Taking care of your teeth at home is important. However, there's only so much that you can do. That's why you still have to schedule an appointment for regular cleanings and routine checkups. You should do this at least once every six months. Regular checkups are the best way to catch small problems before they get worse.
When you visit your dentist in Northern New Jersey, the staff will do a general cleaning. This cleaning is important because it removes plaque and tartar buildup that you simply can't reach at home. Your dentist might also request X-rays. This part of the visit is standard and can help spot any problems that might be developing below the gumline.
Also, your dentist might do an oral cancer screening while you're here to check for early signs of oral cancer. Catching it quickly gives you a much better chance of overcoming it. Plus, you can increase your chances of avoiding it by not using tobacco products, such as cigarettes.
Visit Us in Northern New Jersey Today
If you're looking for a good dentist in Northern New Jersey, you should call to set up an appointment. Our friendly staff is happy to help. Best of all, setting up an appointment is easy thanks to our other scheduling options: our online appointment scheduler or an in-person visit.