Posted under:
General
Posted on: November 17, 2020
Invisalign: Frequently Asked Questions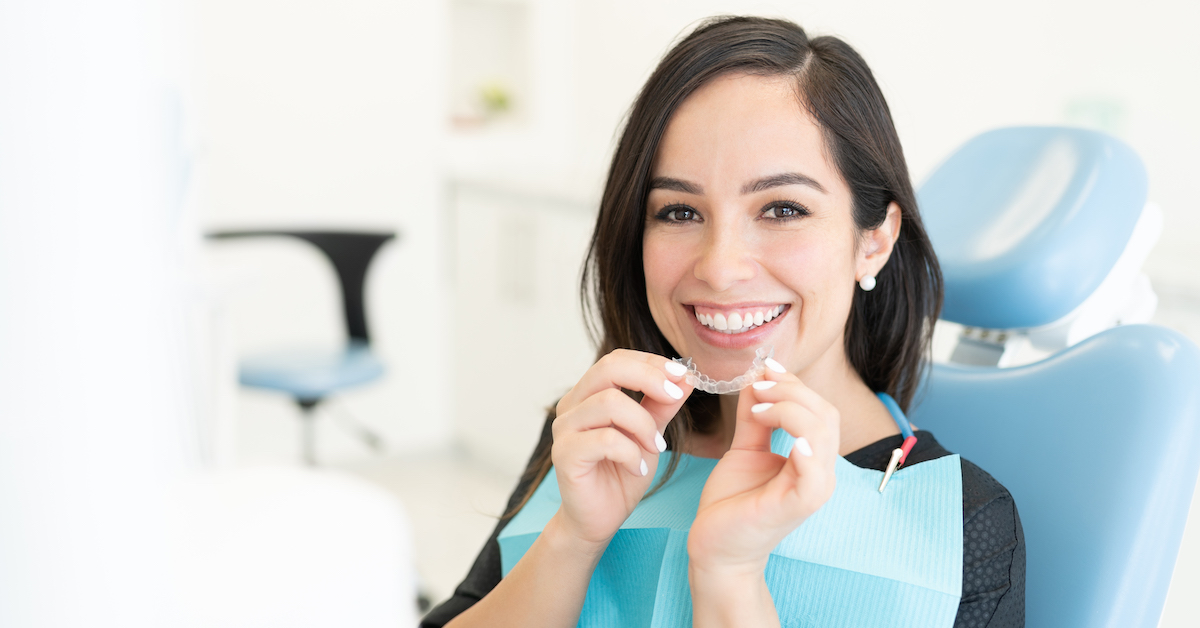 Your most stunning outfit will have a greater impact if it's accompanied by a stunning smile. If you're less than satisfied with the quality or appearance of your smile, then the Invisalign system of aligner trays may provide you with the beautifully straight, even teeth you want. Best of all, the Invisalign trays are virtually invisible, so no one will know that you're wearing them.
How Does the Invisalign System Work?
Invisalign aligner trays work in a manner similar to other types of braces; they just use different equipment. Rather than the metal, wire-and-bracket system of traditional braces, aligner trays are made of a proprietary thermoplastic called SmartTrack®. This blend is FDA-approved, contains no BPA or BPS, and is latex and gluten-free. SmartTrack's special elastic qualities enable the trays to snugly hug your teeth while they gently move them into the correct alignment. They must be worn for 20 to 22 hours daily, and the treatment regimen usually lasts for 12 to 18 months, depending on the degree of alignment you need and your dedication to wearing your aligner trays.
Is Everyone a Good Candidate for the Invisalign System?
Most people are candidates for the Invisalign system of trays, but there are exceptions, such as those who meet the following conditions.
Those who are very young. Young teens and children may not have all of their permanent teeth, and their jaws and teeth are still growing and changing, so they may not be good candidates for the aligner trays.
Lack of dedication. Individuals who aren't dedicated to wearing their aligners for 20 to 22 hours each day are not good candidates. The trays aren't effective if you don't wear them.
Lack the skillset to remove, clean, and replace the trays daily.
Don't care about the invisibility aspect of the trays.
If you're indifferent to the invisibility aspect of Invisalign, then other types of braces may be better for you. However, your dentist or orthodontist will help you determine if you're a good candidate for the Invisalign trays or if another type would be better. Some types of malocclusion may require a different type of dental appliance.
Who Determines If Invisalign Is Appropriate for Me?
When you come to our office for your initial consultation, we'll thoroughly examine your teeth and gums to determine if the Invisalign system will work for you. If you have multiple issues or severe malocclusions, then another system might be better. However, your orthodontic professional will advise you of the best method for providing you with the beautifully straight and even teeth that you want.
If you and your dentist decide that the Invisalign trays will work for you, then we'll provide you with a detailed treatment plan so that you know what to expect during your Invisalign procedure. We'll also advise you of the length of time your treatment will take.
What Happens During the Invisalign Procedure?
When you come to our office for your appointment, we'll thoroughly examine your teeth and gums to ensure that the Invisalign trays will work for you. Then, we'll make an impression of your teeth and gums, and we'll use the impression to fabricate your aligner trays. You'll receive replacement trays every one or two weeks, but you'll only need to come into the office every four to six weeks. We'll need to assess your progress and check for any adjustments that we need to make. You should notice an improvement by the date of your first checkup. Your treatment should take between 12 to 18 months, but it depends on the degree of misalignment that you have and your dedication to wearing your trays.
Will I Need to Adjust My Daily Routine to Use the Invisalign Trays?
There are a few adjustments to your lifestyle that you may need to make, such as:
Stop smoking for the treatment period or completely
Avoid chewing gum while wearing your aligner trays
Remove your trays before eating or drinking
Be sure to maintain good oral hygiene
You need to brush and floss after eating and drinking and you need to clean your trays daily as recommended by your Invisalign dentist. If food particles aren't removed and become trapped under your trays, then decay and gingivitis can begin, which will damage your trays and extend the time needed for your treatment to be completed. Be assiduous in maintaining good oral hygiene during your treatment, and you'll see the best results in the least amount of time.
You may notice a slight discomfort when you first insert the trays, but it's more like pressure than pain. You won't have the cutting and chafing that's frequently associated with the metal wire-and-bracket braces, and the feeling should dissipate within a day or two. The trays won't impede your speech because they hug your teeth like a second skin.
Will It Be Obvious That I'm Wearing the Invisalign Trays?
If you're standing very close to a person, then they may notice that you're wearing the trays, but anyone who's farther away shouldn't notice them. People tend to see what they expect to see, so if they don't expect braces, they probably won't notice them. Anecdotally, the Stanford students who invented the Invisalign trays wore them during their presentations to investors. When they removed them at the end of the presentation, the investors were sold on the idea because they had no idea that the presenters were wearing their product.
If you have an important event or need to play a musical event, then you can remove the trays as long as you consistently wear them for 20 to 22 hours every day.
What Happens at the End of My Invisalign Treatment?
At the end of your treatment, you'll probably need to wear a retainer for a while that will be determined by your Invisalign dentist. However, you'll only need to wear it at night and only for the time specified by your dentist, usually not more than a year.
Is There an Invisalign Dentist in My Local Area?
Only dentists and orthodontists who have been specially trained by Invisalign are authorized to offer the Invisalign system of aligner trays. If you're interested in this innovative solution for achieving a beautiful smile, then call Garden State Dental at and schedule an appointment. Our dedicated and experienced team can help you achieve the stunning smile of your dreams, so call us today. We look forward to working with you.