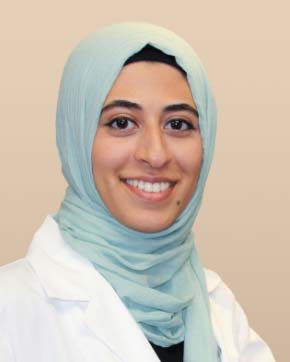 Dr. Anfal Alkhalaf was born and raised in northern New Jersey. She attended New Jersey Institute of Technology for her undergraduate studies, where she received her Bachelor's degree in biology with a minor in environmental science and history. Dr. Alkhalaf furthered her education by earning a Doctorate in Dental Surgery (DDS) with high honors at New York University. Upon graduating from dental school, she completed a general practice residency at Hackensack University Medical Center. During the postdoctoral program, she gained advanced training in comprehensive dentistry with an emphasis on oral surgery, rotary endodontics, and implant restorations.
To stay on top of the latest dental technologies, Dr. Alkhalaf takes continuing education courses, enabling her to deliver the best possible care to her patients. She believes in providing honest, high-quality care by listening to her patients' needs and concerns while explaining their treatment options.
When she's not in the office creating beautiful smiles, Dr. Alkhalaf enjoys spending time with her family and friends, reading, and spending time outdoors. Dr. Alkhalaf enjoys giving back to her community by volunteering, recently giving dental hygiene classes at her local mosque and participating in a medical mission trip to Jordan, where she helped refugees with their dental health needs. She is bilingual, speaking English and Arabic.
Book Online Now
Complete the form below to book your appointment today.
Office Hours
Monday

9:00 AM – 7:00 PM

Tuesday

9:00 AM – 7:00 PM

Wednesday

9:00 AM – 7:00 PM

Thursday

9:00 AM – 7:00 PM

Friday

10:00 AM – 7:00 PM
CareCredit
CareCredit is a healthcare credit card designed for your health and wellness needs. Pay for the costs of many treatments and procedures through convenient monthly payments.
Our patients leave smiling


My mother just finished getting dentures made and the staff couldn't be more courteous, friendly and professional. We brought everyone some holiday Dunkin Donuts. My Mom never does that. Highly recommend this place!!!

Lucia C.



I have been going to this office for as long as I can remember and they have always treated me with kindness and respect. Devita and Diana always greet me with a smile and are very quick to go above and beyond when it comes to scheduling appointments or any other questions I have . The dentists at the office are all well educated and very caring. Thank you again for all your hard work!

Dennis



My experience from check in to check out was amazing. Very professional and polite staff. I will definitely be recommending this office to my colleagues.

Nicole R.



I wouldn't go anywhere else! Everyone at Garden State Dental go over and above the call of duty to make your dental experience the best it can be! I used to be nervous at the dentist but since I've been a patient of Garden State for the last 9 years, I'm never nervous and my teeth and mouth feel great. I'm a 78 year old woman and still have all my teeth! Thank you.

Joann K.



Staff is professional and friendly and dentists make you comfortable and not afraid of procedures

Patty J.



Dr. Nardozzi is considerate and shows genuine interest, and care in her craft. I don't feel rushed like I have with other dentists. The whole staff there are just caring and pleasant.

Kristian F.



Honestly, the best experience Ive ever had at the dentist. Very pleasant staff, great looking facility/office, and efficient service. I also lucked out with have a dentist and oral surgeon in the same office. Really awesome place, highly recommend!!!

Heather S.



Outstanding staff !!! Never have to wait ! The assistant sue is phenomenal!! I Would definitely recommend my family and friends to this dental office

Lillian D.



They say a relationship with your dentist is personal, and it certainly is! The staff and my dentist at Garden State Dental are like family. Personal, professional, amiable and accommodating, they are all excellent professionals and the service is stellar! I wouldn't go to anyone else.

Maria N.



Great Dental service ! Provides great customer service ! Love them

Angel V.



The wait is never long, the staff is very professional and they keep me coming back with a smile:-)

Dee B.



So glad I found this office. They are accommodating and the wait times are short. They keep you very informed about your care and treatment plan which I appreciate. Dr. Parker is awesome, she cares about her patients and is very efficient. I would definitely recommend this office!

Melissa M.



Dr Parker was great! Made me feel comfortable during the entire appointment. The office atmosphere was pleasant, and the extremely professional staff had me in and out so that I could return to work in time. I would definitely recommend Garden State Dental to anyone looking for a Dental Office!

Joe M.



I recommend this dentist. The staff are very friendly and respectful. The dentists are gentle and get the job done.

Imani J.



I got my wisdom teeth pulled out and two root canals fixed with crown. So far I have no issues and their oral surgeon is excellent.

Catherine L.



This dental office is the best. It was great before and better now. The dentists are extremely kind and very gentle. Diane is very informative and consistent. She has been a great help. She has a contagious smile that just warms my heart everytime. I walk in content and leave happy and satisfied, also they just got new chairs that are very comfortable. I recommend anyone that needs exceptional den…

Sandra F.



Would strongly recommend this dental office from the new renovations to the place inside and out to the most gentle doctors Ive ever experienced. Diane at the front desk was such a great help, Thank you!!!!

Albertina F.



The best dental experience I've ever had, the staff is very courteous, Devita and Diana are the best and they make you feel like one of the family, the service is great and they do great work…. I would definitely recommend them and as a matter of fact I've already done so.

Raymond



From the deak to the dentist great customer service

Stephania M.



Great service!!

Steve A.



Office staff nice, and professional..

Lois G.



I had the best experience at garden state dental , the front desk was great they explained my treatment plan step by step , dr Parker and the assistant sue always make me feel at ease in the chair …. I would definitely recommend family and friends to this dental office

Inacio T.



Kind & courteous staff! Love it here!

Joyce G.



Dr. Nardozzi is considerate and shows genuine interest and and care in her craft. I don't feel rushed like i have with other dentists. The whole staff are just caring and pleasant.

Kristian F.



The service I receive at Garden State Dental of Roselle Park is phenomenal. Each and every time I walk into their office I am greeted with a smile (pun intended). Another high note, I am a huge baby when it comes to pain, and my experience has been painless each time. I highly recommend this Dental Office!

Ike A.



Great place! My daughter comes here, my husband comes here and I now have an appointment as well.

Diane P.



Very friendly, and care greatly about their patients. Highly recommend.

Jeffrey A.



LOVE IT HERE!!! The staff is very pleasant and always professional. You get call and text appointment reminders, the dentist is thorough/answers questions, and the wait time has never been longer than 5 minutes.

Kristen H.



Friendly Place , Very Polite , always Great You with a smile

Joao P.



Everything was done very professionally I am very happy!

Michael M.



Great staff, nice office and very helpful. Love them!!!

Gail L.



Very friendly staff. Doctors are super nice.

Suman V.



My experience was wonderful! Especially is great a customer service. Diana always help with everything! Doctor made a great job with my broke front teeth! So happy! Thanks everyone!

Irina S.



Hygentist was very professional and procedure was painless.

Anonymous



By far great staff and excellent dental work. I highly recommend this facility.

Shawn M.



Great n very friendly environment…Great n very comprehensive staff as well as the doctors always concerned about ur well being and their work as well

Ruben P.



Always get the work done whenever I come for my appointments. I would most definitely recommend a friend or family member to come here.

Kaniya R.



This has to be my favorite place hands down! The ladies there are the absolute best I have come across! I got my braces done there and they made me feel so comfortable. They really take the pain out of going to the dentist! Plus that places ALWAYS smells really good!

Krystal N.



This place is so friendly and peaceful.

Tyrone H.



Karina was extremely understanding, patient and gentle. She made a stressful situation into something tolerable and easy. Thank you!!

Corine M.



Great staff, great doctors, love this place,

Angela G.



Friendly, helpful staff… would recommend to everyone…

Carla F.



Very good

Monica S.



Dr. Wusu rocks!!

Laura W.



The office is extremely pleasant! The staff is friendly and make me feel super comfortable… I would recommend it to anyone!

Joseph D.



The office staff is great. The assistant named Susana that took care of me was very helpful and nice . Everyone was very professional and very time oriented.

Melissa C.



Great staff who takes pride in their work. I highly recommend this office.

Shawn M.



Great facility ,wouldn't go anywhere else! The staff is friendly and professional!

Jessica C.



This place does amazing work and the staff their are very helpful and kind

Mattthew N.



The office staff is absolutely great. They were very helpful and nice . Everyone was very professional and very time oriented. They kept all my appointments with minimal wait time.

Daniel C.



Excellent front desk customer service, staff very professional, hardly no wait time to be seen, love this place..

Angela G.



Great staff..very nice and courteous always willing to got he extra mile to suit your needs..Great doctors who take the time to explain any procedure you may need. Waiting area is very inviting and the time frame to sit and wait to be called is not a long wait at all…I would recommend this dentist office to anyone. A great staff, doctors and environment setting is hard to find these days..So…

Angela G.



If I could give it 6 stars I would! Friendly staff, excellent service and the best part never a long wait!. My family and I love it. Highly recommend this facility.

Di



Love this dentist. They always make me feel welcomed and like they're giving me my money's worth. Super friendly and awesome staff. I especially loved the girl Susana who assisted my dentist. Definitely recommended going here

Sofia J.



Been here several occasions and never a bad experience, everyone is nice and friendly… I don't see myself going to any other dental office!

Ronnell O.



The staff are always friendly and respectable. They work with you which works for my family

Anonymous



My daughter said that she is so thankful for the expertise and care of her dentist. Her dentist made sure that my daughter is comfortable even at the most painful part of the procedure, the injection. Thanks to all the staff also who are approachable and informative. Your dental office is highly recommendable. We give you A+ for your excellent service!

Anonymous



As always, a pleasant experience. Staff are courteous and efficient.

Janelle H.



As always, the best experience. Clean place, very polite and nice people.

Sinthia D.



it was a very pleasant experience front staff is very friendly and accommodating and the dentist was very kind & thorough

Cynthia A.



This facility is always extremely pleasant. The front desk staff are friendly and efficient. And even though the office can be very busy on surgical days, every one works very hard to make the experience wonderful. The medical team listens to my input and tries to work around my criteria and requests. Every one greets me with a smile. I really enjoy this office. It makes dental appointments someth…

Chritine S.



The staff and dentists are great! As terrified as I am of the dentist…they make me feel very comfortable. I'm gaining my confidence back in going to the dentist and not being afraid. Thank you Garden State Dental!

Kimberly S.



Staff is very friendly. Very accommodating relative to making canceling and rescheduling appointments. If I had a complaint it would be to get most or all of work done in as few visits as possible. Staff and dentist are excellent

Anonymous



After a long process, finally have my new teeth and couldn't be happier. Lots of compliments. You guys have been great throughout the whole ordeal and can't say thank you enough.

William I.



I was very anxious and nervous about getting all four of my wisdom teeth taken out but the experience was better than I expected. The oral surgeon and his assistant were great. Not only was my appointment time honored within 15 minutes but the procedure lasted less than the hour they estimated. Very positive experience!

Anonymous



Absolutely amazing… because of G.S. Dental, I have to learn to smile using teeth.. something I have never done.. and their bedside manor… second to none.. Thank you so much!

Thomas L.



It's my third time there and the experience is as expected: awesome. I couldn't be happier I chose them, from the dentist to the staff throughout the office they always exceed my expectation. I highly recommend them.

Anonymous